Ministry of the Interior, Hellenic Republic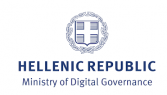 National IP/MPLS VPN Network for Public Administration (SYZEFXIS) 
The Need
SYZEFXIS concerns the installation and maintenance of a stable and fast IP network to interconnect public sector organizations, including ministries, municipalities, hospitals, social security foundations, schools and many other, counting in total more than 2.200 nodes.
The services
We provide IP network and telecommunications services related to voice (switching, signalling), video (teleconferencing) and data (Internet access, IP MPLS VPN). The services include the design, implementation, maintenance, operation and support of a secure IP network using both wired and wireless infrastructure. 
Specifically, we provide:
Data connectivity for more than 2.200 nodes.
Broadband Internet access services and email.
 VoIP telephony.
Teleconferencing services.
Public website per node supporting value-added services, like directory services.
 Public Key Infrastructure (PKI) services.
Management of Central Security Infrastructure (Firewall, IPS/IDS)
Log files management.
Security policy implementation (generic or custom per VPN).
Synchronous and asynchronous trainings. 
The benefits
SYZEFXIS is a fundamental project for the Ministry of Interior, as it empowers the improvement of the operation of the Public Administration is achieved though:
Modernization of the network infrastructure of Public Administration towards the fulfilment of e-government model.
Effective management of the data traffic and the central and distributed support of all services and applications.
Reduction of cost of communication with simultaneous increase of the quality, reliability, availability and security of the services.
Upgrade of the services provided to the Greek citizens, thanks to automated and user-friendly value added services.